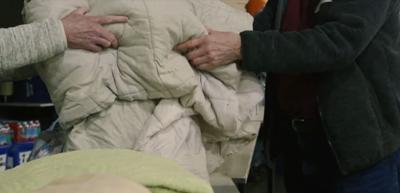 EUGENE, Ore. – St. Vincent de Paul Society of Lane County, Inc., said on Tuesday that the Egan Warming Centers' 2023-2024 season has officially opened.
The centers serve as a low-barrier, volunteer-operated winter shelter program that activates as needed to provide shelter for unhoused residents for one night at a time when temperatures reach subfreezing levels in Eugene and Springfield, St. Vinnie's officials said. The non-profit said the operational season begins November 15 and ends on March 31, and program managers monitor multiple weather-forecasting systems to activate site when overnight temperatures are forecasted to dip below 30 degrees.
"It's inspiring every winter to see this community's incredible humanity, which is on display every time we unite to bring people in from the cold," Black says. "It's hard work, but it's vital work. And every year we need new caring volunteers who are willing to step in and do that work. If you're interested in helping your most vulnerable neighbors in the most direct, most human way possible — literally, helping to save their lives — we hope you'll join us."
Volunteers at the warming center sites provide guests with sleeping pads and blankets, warm drinks and meals, basic first aid and hospitality, according to St. Vinnie's. Organizers said that the program is named after Major Thomas Egan, an unhoused Army veteran who froze to death in Eugene while sleeping outside in 2008.
"He deserved better than that, as all people do," says Tim Black, SVdP's winter strategies and emergency response coordinator. "If Major Egan had a safe, warm place to go that night, where he was welcomed with compassion and without judgement, it could have saved his life."
Volunteers are needed for the program with the next orientation scheduled for November 30 via Zoom from 7 p.m. to 8:30 p.m. and those interested should RSVP by emailing St. Vinnie's and requesting a link to the orientation, the non-profit said.
St. Vinnie's said that donations of gloves, coats, shoes, and money are also sought for the program with a secure online form for tax-deductible monetary donations available on the Egan Warming Centers website. Clothing donations can be dropped off at in-store donation barrels throughout Lane County, while food and drink donations should be made through FOOD For Lane County.
By Ryan Bonham, KEZI.com